League: Diamond Prep Information
---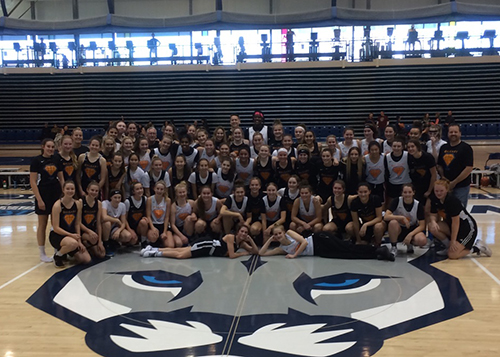 After a brief hiatus, CMBA is excited to announce we are running the third year of the elite level Diamond Prep League, a basketball league in Calgary for the very best High School girl players in Grade 10, 11 & 12.
We have made some improvements this year to help make the league more exciting and competitive for all of our players.
Registration is now closed
---
Returning this year:
The best female high school players from all across Calgary competing with and against each other
Full support and involvement from University Coaches Robyn Fleckenstein from Mount Royal University and Damian Jennings from University of Calgary
Player Profiles sent to all ACAC and U Sport schools in Alberta
Try-Outs
Training Session
8 Games consisting of 4 x 10 Minute Stop time quarters
New this year:
All games will be played at Mount Royal University or University of Calgary
All games will be played at the same time, creating a great atmosphere
Coaches will stay with their designated team all season
Between 60 to 66 Players will be selected for 6 teams
25 Minutes of training / practice with team before every game
Player of the Game
Games will be played on Sunday's from 1:00pm-3:00pm
Dates: & Times
Try-outs:
Sept. 19 12:30pm-3:00pm Tryouts at Mount Royal University (Kenyon Court) ** Check-in will be 12:30pm - 1:00pm
League Games & Team Practices - 1:00pm - 3:00pm
September 26
October 3,17, 24, 31
November 7, 14, 21
Cost:
Try-Out Fee - $20
Registration from June 15 - August 31 - $250
Total payable at time of registration - $270
Alberta Basketball Member Fee (For players invited to a team) - $17 payable to ABA
Eligibility:
Female players from Grade 10-12 attending High School in the Calgary and Surrounding Areas
* Please note: on the rare occasion some exceptions may apply to Grade 9 students. If you are in Grade 9, and would like to participate, please contact CMBA General Manager Mike Shaw cmba@cmba.ab.ca prior to registering for further details.
Registration
Registration is now open. Registration fee is due upon time players sign up.
Refund Policy:
There will be no refunds for the $20.00 try-out fee.
100% Refund under the following conditions:
Player withdraws from the program prior to September 1st
Player attends tryout and is not selected on to a team
90% Refund under the following conditions:
Player withdraws from the program between September 1st and September 11th
No Refunds:
Players who withdraw on or after September 12th, 2021 (including players that have been selected for a team)
All players who withdraw must do so via email to cmba@cmba.ab.ca
A refund will be given within 15 days of the withdraw notice, not including the $20.00 tryout fee